Appraisal Toolkit
I just wanted to feed back how amazing your toolkit and app is. My appraisal prep over the year has been simple, stress free and it has saved me about 2 days of preparation time! thank you!!

No multi-year contracts
Free switching service – we'll move everything over free of charge even if you're part way through your appraisal preparation
ISO 27001 certified
Saving GPs time, and stress
The FourteenFish appraisal toolkit is simple to use and beautifully designed. We've built our entire system from the ground up to encourage GPs to think about appraisal throughout the year as opposed to the usual last minute rush.
Our range of tools and apps makes CPD recording effortless and the whole appraisal process much more enjoyable.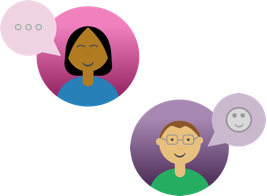 This appraisal toolkit is excellent for appraisers as well as for appraisees. The concept and design are extremely transparent, slick and practical. In fact, it makes the entire appraisal process including sign off etc. much, much easier than any other on-line appraisal toolkit I know. I hope that more doctors will use FourteenFish instead of these other, much clunkier options, which I frankly silently dread every time. FourteenFish is a win-win all around, both for doctors using it, as well as their appraisers.

Free transfer service
Thinking of using FourteenFish for your next appraisal? That's great!
Let our transfer team take all the work out of moving over to us, even if you're part way through an appraisal.
Only £42 per year
*
It's completely free to try out, and you only need to pay once you're ready to submit your appraisal to your appraiser.
* including VAT with a no-obligation free trial
Register now
Just register for an account to get started.
Appraisal Toolkit for GPs reviews
So far I am LOVING using fourteen fish. I am preparing for my first appraisal(1 year delayed due to covid) and I am so impressed with the ease of filling it out. Everything is outlined and the interface ie very user freindly. It also doesn't allow you to send your work to your appraiser until every box is ticked and most helpfully gives you the list of things yet to do with a link stiaght to that page. Could not be any happier with it! Dr Valentine Goulstine on 12 September 2021
i have just changed from the MAG form - wow THANKYOU!!! so easy to use, am doing my 360 feedback aswell using this, aswell as my education, what a great portfolio tool - well done you!! Dr Louise Shanahan on 10 July 2021
Way easier than Clarity. Some of the navigation is not intuitive, but just a question of familiarity. Anonymous on 1 June 2021
This is a fantastic platform! It's very well thought out, user-friendly and provides all the necessary prompts to complete the appraisal process. I find I actually enjoy adding information and uploading CPD, and it has helped me to appreciate the importance of appraisal rather than considering it a big inconvenience. The changes made to the template during the time of Covid have been very good. If you ask for help it is provided quickly and efficiently. Well done FourteenFish. Anonymous on 15 December 2020
Slick and intuitive. Appraisals couldn't be any easier. Looking forward to seeing the new trainee ePortfolio platform which fourteenfish are developing for the RCGP. Dr Daniel Webber-Rookes on 28 November 2019
I have never liked appraisals and am not computer literate at all. Your app and website are excellent.User friendly and very easy to navigate. Thank you for saving me hours of work! Anonymous on 22 September 2019