Our products
Solutions for your organisation
Register now
It's free to try many of our products.
Some things like our Learning Diary are free forever. We're nice like that.
Here's what people are saying about us
Great to have, at last, a GP-friendly appraisal tool and the Learning Diary is genius.
Thank you for creating a common sense appraisal toolkit which reduces the workload and sticks to the key elements needed in a straight forward way.
Very straight forward site to use. Wonderful presentation of the surveys means very easy to reflect on. I would recommend to everyone.
I found the whole process of doing the 360 on this site very straightforward and non-threatening.
Average rating 4.7 stars (out of 240 ratings). Read more reviews including the negative ones.
Our numbers, updated hourly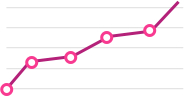 20,756 registered users
200,016 feedback responses
264,327 learning notes recorded
509 new users in the past 30 days